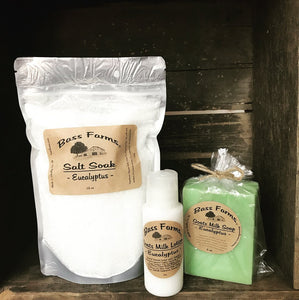 When Cold & Flu Season is in full force, Bass Farms Cold & Flu Set can help you feel a little better.
Eucalyptus Essential Oil creates a cooling and refreshing effect.  Helps with mental exhaustion, muscle & joint pain, achiness, respiratory congestion, including cough, runny nose, sinus & nasal congestion, and bronchitis.  
We're here to soothe, not be your doctor!  Call the doc if symptoms worsen.
16 oz Eucalyptus Salt Soak for hours of comforting bath soak
 5 oz Eucalyptus Goat Milk Bar Soap to help wash away germs
 2 oz Eucalyptus Goat Milk Body Lotion to hydrate your skin
This also makes a great gift!
Try some Hand Sanitizer, Lip Balm, Massage Oil, and Body Butter for a "full on feel better" experience; 
Really achy?  Try out Bass Farms Muscle & Joint Relief Cream